Planning a Sacramento Courthouse wedding? An amazing choice! Sacramento offers the perfect backdrop for a Californian wedding with its rich history and culture, abundant historic landmarks, and luscious parks. Whether you are planning an elaborate high-end wedding after saying I DO in the city hall, or just stopping by the Courthouse to elope; there's something that everyone needs to consider before tying the knot. Have a look at the essentials:
Research Marriage license requirements
All weddings require obtaining a public marriage license in Sacramento before making it legal. Every state has its marriage license process, which varies from county to county. So you will need to research the requirements and apply at the County Clerk's Office.
Apply for the Marriage license
Once you have researched, apply for the license for the Sacramento Courthouse wedding. For this, you need a state-issued ID card or a driver's license, certified copies of birth certifications, and an SSN. On the application, you need to provide-
Your legal name, place of birth & date of birth for both of you.
The new name you or your spouse will take after the wedding.
Proof of divorce and divorce date if either of you has had a previous marriage.
Once you receive your marriage license, you need to get married within 90 days; otherwise, it won't be valid afterward.
Cost of the Wedding License
Public marriage license- $84
Civil ceremony- $36
Witness Fees- $29
Certified Copy- $15
Confidential marriage license- $95
Make an appointment
Depending on your chosen city, you may be allowed to make an appointment for your ceremony in advance. Sometimes, there may be a significant waiting time to secure an appointment. If you cannot make an appointment for the Sacramento city hall wedding, you will need to nominate a day and wait for your turn.
Prepare a Courthouse Wedding Checklist
It will help to have all the necessary paperwork listed and ready before heading to your Sacramento Courthouse wedding. The witnesses you choose should be over 18, and double-check if they will be able to attend. I've also created an elopement checklist for every kind of elopement: making sure you have transportation, bookings, an elopement photographer, and all the other aspects you might not think about!
Capture the day beautifully
This is something that shouldn't be missed. Invest in hiring a talented Sacramento elopement photographer to document your special day. There is no better way to have memories you can look back on and cherish for decades. Hire someone who has shot at the courthouse before and is familiar with the surroundings.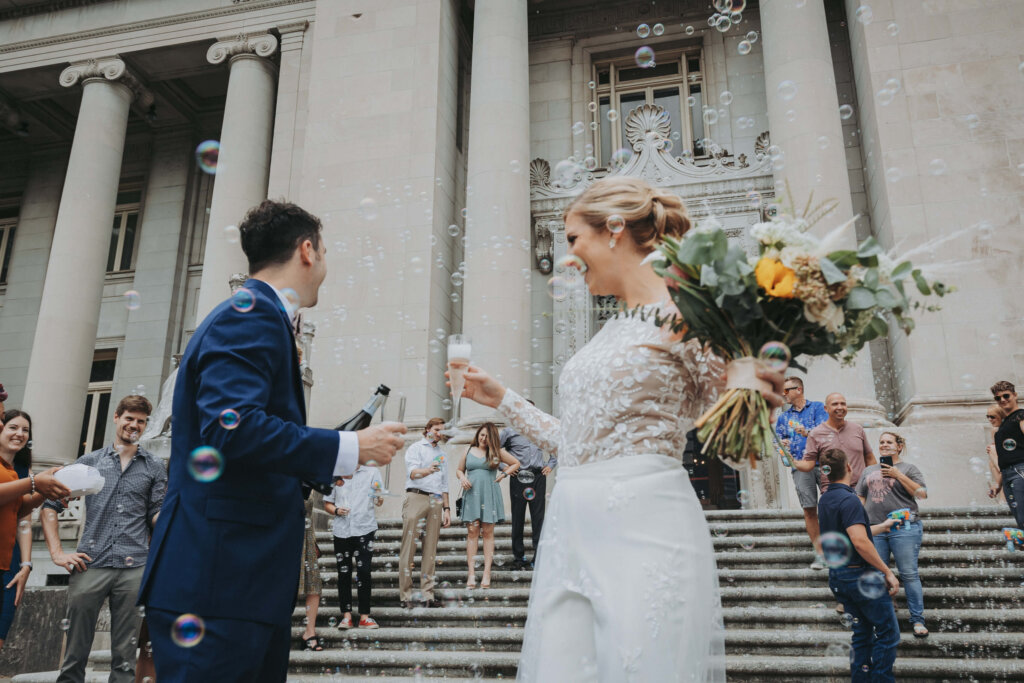 Choose an Outfit
Just because you are not hosting a grand wedding, that doesn't mean it shouldn't be fabulous. You can make your courthouse wedding formal or casual the way you like. Etsy has some amazing ideas as well :)
Add Personal touches
In courthouse weddings, due to the time limitations, you may be unable to recite your vows. Still, you can incorporate some traditions that reinforce the day's significance. You can carry a bouquet, raise a toast, or make bookings in a luxury hotel to celebrate the moment. You can even plan a first look before you head to your appointment.
Time of the year
Summers are long and dry, making Sacramento favorable for both outdoor and indoor ceremonies for many months. To be honest, the weather in this area is perfect almost all year round, so you won't have issues with any of the seasons. Of course, winters are a bit chilly but a lot warmer compared to other states and cities.
Plan photo opportunities
Sacramento is full of photo opportunities, from mansions to historic buildings to countless murals throughout the city. You can work with your photographer to choose some of the few locations you would love to photograph during your elopement.
If you are planning a downtown Sacramento Courthouse wedding, take a moment to consider these factors and enjoy everything the city has to offer. If you have not finalized a photographer yet, let me know! I've wandered around downtown Sacramento more times than I can count, so it would be an honor to capture your elopement!
If you're here, but looking for info on eloping in Memphis, you can check out my blog here!